VIB en el Hack4Good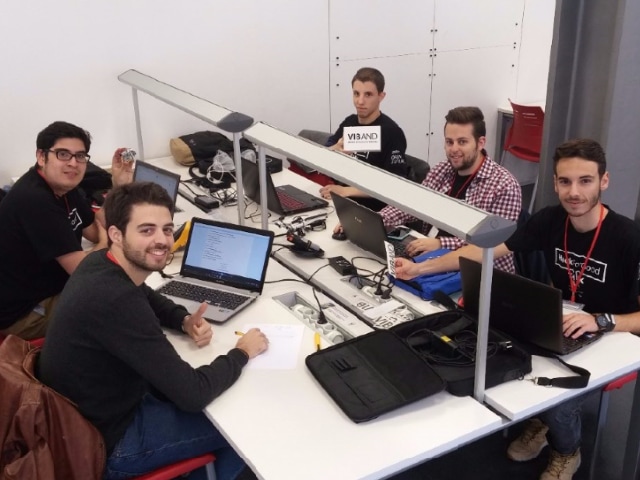 Makers UPV never stops!
Last week we show you our experience at 24 hour robotic competition in Castellón. After one week we are in action again.
VIB team formed by Juan Carlos Sebastiá, Robert Vazquez, Alejandro Valenzuela, Pedro Martínez López and Eliseo Juan, members of Makers UPV has been awarded with ThinkBig and Open-data prizes at the social hackathon "HackForGood", thank to their project VIB,  based on a smart bracelet for deaf people.
Polytechnic University of Valencia students have been working with no time for two days, developing an idea that came up while talking with "Chema", a deaf person from Cádiz who got in touch with Pedro.
"When someone's calling or my son is crying it's usually my dog who comes to me, but sometimes he also seems to have some audition problems."
That's how VIB idea arise. All members of the team were excited for the challenge.
They quickly contacted with Fesord, the local association for deaf people. They also loved the idea.
VIB had been born as an open project, where, from the beginning, both deaf and normal people join each other with the aim of arriving to the maximum possible number of people.
Their proposal
VIB (Vibration Innovative Band)  is the solution to most of the difficulties deaf people find in their daily life.  Something as simple as a net of  wireless microphones, a smart bracelet and an App for smartphones.
How does it work?
VIB, arduino based, will be able to distinguish different sounds such as a crying baby or a bell. On that way, microphones will communicate by Bluetooth with the smartphone, telling it which sound is taking place. Through the app user will be able to configure the desired notification in the bracelet. Different vibration patterns and led colors will allow the user to distinguish the corresponding sound. Furthermore, microphones can be charged wirelessly, without the necessity of any wire.
What's next?
VIB team wants more.
They don't know national awards yet, but they are already thinking in their next goal. They are going to keep working in sound recognition system and in a new bracelet model. ThinkBig, HackadayPrize or James Dyson Award could be their following steps.
"My life has not been easy until that group of entrepreneurs told me about their project. I have a lot of hope on them. I'm conscious about the difficulties for making a project like this real, but just the fact of young people like them worried about people like me deserves my respect. ", told us "Chema" after the hackathon.
The anecdote?
Looking for inspiration for the project video our Makers found a song from the artist Mayor Tom to his daughter with audition problems.
The song was perfect for the video, but they needed artist's approval, so they looked up for a contact in his web page. They found a phone number and tried to call at 1 o'clock in the morning.
Which was their surprise?  Mayor Tom personally answer them and not only allows them to free use the song but he also wanted to know more about the project after the hackathon.
Without any doubt, HackForGood has been just the beginning, an extra motivation, that boys are really going to make the world vibrating.
You can know more about their progress and get extra information at:
https://twitter.com/letsvibtheworld
________________________________
¡En Makers UPV no paramos!
Si bien la semana pasada os contábamos nuestra experiencia en el torneo de robótica 24h de Castellón, esta semana hay más.

El equipo VIB, formado por Juan Carlos Sebastiá, Robert Vazquez, Alejandro Valenzuela, Pedro Martínez y Eliseo Juan, miembros de Makers UPV, ha resultado premiado con los galardones ThinkBig y OpenData en el hackathon social "HackforGood", por su proyecto VIB, una pulsera inteligente para personas con problemas de audición.
Los estudiantes de la Universidad Politécnica de Valencia han estado trabajando a contrarreloj estos dos días, preparando una idea que surgió hace semanas, cuando "Chema", un gaditano con problemas de audición, se puso en contacto con Pedro.
"Cuando llaman al timbre, o mi hijo está llorando suele ser mi perro el que viene a avisarme, pero él a veces también se hace el sordo."
Así se enciende la bombilla de VIB. A todos los miembros les entusiasmaba el reto.
Enseguida contactaron con Fesord, la federación de sordos de la Comunidad Valenciana, y les encantó la idea.
VIB se presentaba como un proyecto abierto, donde, desde el principio, sordos y oyentes se unían con el objetivo de llegar al mayor número posible de personas.
Su propuesta
VIB (Vibration Innovative Band) es la solución a la gran mayoría de dificultades a las que se enfrentan las personas sordas en su día a día. Algo tan sencillo como una red de micrófonos inalámbricos, una pulsera inteligente y una App para smartphones.
¿Cómo funciona?
VIB, basado en la plataforma Arduino, será capaz de discriminar sonidos como el llanto de un bebé, el sonido de un microondas o el timbre de la puerta. De este modo, el micrófono se comunicará  mediante Bluetooth con el móvil, indicándole qué sonido se está produciendo. A través de la App el usuario podrá configurar el tipo de notificación que quiere que se produzca en la pulsera. Diferentes patrones de vibración y el color de los leds permitirán distinguir la fuente del sonido. Además los micrófonos también se cargan inalámbricamente permitiendo que su recarga sea más cómoda sin necesidad de usar cables.
¿Y ahora?
El equipo VIB no se conforma, quiere más.

Aún no saben los resultados de los premios globales, pero ya están pensando en su próximo objetivo. Van a seguir trabajando en el sistema de reconocimiento de sonido y en un posible nuevo modelo de pulsera. Think Big o el concurso James Dyson podrían ser sus próximos pasos.
"Mi vida ha estado llena de trabas, hasta que este grupo de chavales me dijeron que tenían este proyecto. Para mi fue un rayo de esperanza. Soy consciente de que tal vez esto nunca llegue a comercializarse, pero el que haya jóvenes como ellos, que se involucren en intentar facilitarme la vida, es digno de todo mi respeto ", nos decía Chema después de la competición.
¿La anécdota?
Buscando inspiración para el vídeo de presentación, nuestros Makers encontraron una canción del artista Mayor Tom, dedicada a su hija sorda.
La canción era perfecta para el vídeo, pero necesitaban su permiso, así que buscan algún contacto en su página web. Encuentran un número, y le llaman a la una de la madrugada del Sábado.
¿Cuál fue su sorpresa? Mayor Tom descuelga el teléfono, escucha su proyecto y les abre las puertas a lo que sea. No sólo les dejó usar la canción, si no que quería saber más del proyecto después de la competición.
Sin duda, Hackforgood ha sido solo el principio, una dosis de motivación, estos chicos van a hacer vibrar el mundo de verdad.
Puedes seguir su progreso y conseguir más información aquí:
https://twitter.com/letsvibtheworld