Hyperloop Global Challenge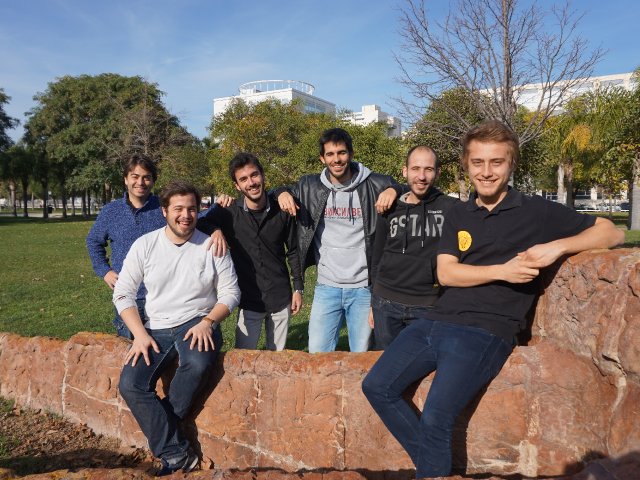 Galería de imágenes interactiva
Spanish makers to unveil an ultra-fast pod design at Hyperloop's Design Weekend.
Valencia,  12th January 2016.
The spanish team is designing an innovative pod solution to change the way we understand transportation and is taking part in the global competition organized by Space X, Elon Musk's aeronautical company. The pod concept will be unveiled at Texas A&M University on the 29th of January 2016.
The Hyperloop UPV Team, made up of five spanish students: Ángel Benedicto, Daniel Orient, David Pistoni, Germán Torres and Juan Vicén has been selected, among many international projects, to participate in the global challenge to design the Hyperloop, the fifth transit system aimed to revolutionize the way in which we travel. Along with them, professor and researcher Vicente Dolz has decided to work with them in what he considers an amazing project.
Organized by Space X, business-magnate Elon Musk's aeronautical company, inventor and founder of the electric car company Tesla, the Hyperloop project is a new high speed transportation system which could be able to travel from Los Angeles to San Francisco in less than 35 minutes, that's 350 miles (563 km) at 685 mph (1.100 km/h). As an open design project, Hyperloop has been conceived to be created with the international efforts of the community, which may result in improvements to make the system become a reality. The system is ultra-fast, cheaper than flights and with almost immediate boardings. Furthermore the system is aimed at being powered by renewable sources. In September 2012 Musk estimated in $6m the cost of the Hyperloop connection between San Francisco and Los Angeles, 1/32 the cost of the of California's High Speed train proposal. This fact resulted in the consideration of the Hyperloop proposal by the Government, which decided to give SpaceX's project a chance.
The team from the Polytechnical University of Valencia will now compete with world's top Universities such as Massachusetts Institute of Technology (MIT): in total 318 teams, 162 universities and 16 countries to obtain the most innovative solutions that will revolutionize once and for all the future of transportation. The team is one of the only 11 european teams.
The contest will take place on the 29th and 30th of January at Texas A&M University and the team is getting ready for the long journey. "Our system will try to use state-of-the-art levitation technologies as well as control systems and sensors. The propulsion system's been a huge challenge and now we are ready to rock and we'll give our best at the Design Weekend to show that innovation is also possible in Spain!" says Germán Torres, aeronautical engineer and technology manager of the project.
The team hasn't given more details yet, but what we can certainly ensure is that future has arrived.
Press inquiries at: hyperloopupv@gmail.com
Check out also their Facebook page